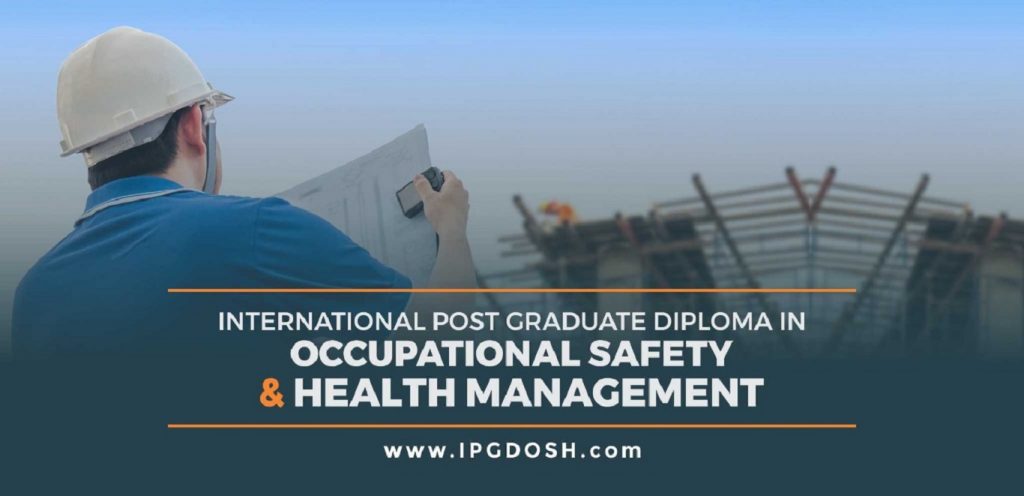 +This qualification is a diploma course related to domain of Health and Safety practices and management at workplace. This course provides opportunity for learners and health and safety professionals to have knowledge of health and safety practices and related risk management at workplace.
It is intended at learners who are likely to be managers looking to expand their knowledge and skills. The Diploma is designed to offer learners with the proficiency required to assume an occupation as a health and safety practitioner.
Qualification Structure:
The International Diploma comprises three mandatory units.
Unit 1 – Strategic Management and Safeguards of Health and Safety
Unit 2 – Positive Practices and Awareness at Workplace
Unit 3 – Health and safety research, ethics and emergency management
Study Mode:
IPGDOSH is suitable for qualified and experienced professionals. IPGDOSH is Distance Learning Mode & Tutor Support program. Via Calls, Skype, Whatsapp guidance. However, there is no formal lecturing for this diploma.
Entry Requirement:
The qualification has been designed to be accessible without artificial barriers that restrict access and progression. Entry to the qualifications will be through centre interview and learners will be expected to hold the following:
* A minimum of a Level 3 & 5 qualification in a related sector or;
* Bachelors in Engineering degree or;
* Masters in Engineering degree or;
* A minimum of 3 years' managerial work experience which demonstrates current and relevant industry knowledge.
In certain circumstances, individuals with considerable experience but no formal qualifications may be considered, subject to interview and being able to demonstrate their ability to cope with the demands of the programme.
Pricing:
Total Fee is 800£ or 1000$. You must pay 50% fee at the time of registration. Registration will be valid for two years and you can sit in the exam any time of the year subject to the exam administrative arrangements in your country. However, you will need to pay balance 50% fee before sitting the exam.
Why should I choose IPG

DOSH:
1- Route to GradIOSH membership 
2- Result is issued after the online exam
3- Diploma is issued within 3 weeks to the delegates who qualify the exams
4- Online exams 6 times a year.
5- You can sit in exam any time you wish at main venue i.e PSC (At 15 days advance notice to PSC via email)
6- PSC Level 7 International Post Graduate Diploma in Occupational Safety & Health for general safety
7- Diploma awarding body is PSCIQ UK.
For Enrolment:
https://www.ipgdosh.com/register-now/  
PSC International deliver these courses Internationally. We have offices in the UAE, Oman, KSA, Qatar, MENA, India & Pakistan as well as the U.K.
For further information, please contact training@pscintl.org or info@pscintl.org